What do you do after you've more-or-less totally conquered the R&B/Pop and Jazz worlds, and have become so successful in the music biz that one of your backup bands goes on to become a multi-platinum-record-selling act?
In Boz Scaggs's case, you start up a wine brand. Of course!
Many of you…, uhm… younglings reading this may not be intimately familiar with Boz's tunes, or his soulful crooning, but chances are very, very good that your parents think he's the shiz. In 2000, smooth-soul-rocker Boz and his wife Dominique released the first wines made under their Scaggs Vineyard label. Their plantings were started on a bit of a lark in the late 1990s, when a friend suggested they try growing grape vines on their Napa Valley property (and gave them some leftover Syrah he had on his truck). Turned out that friend was onto something – Scaggs Vineyard 2008 Mt. Veeder Montage is a stellar Mourvèdre / Grenache / Syrah blend that's packing as much soul as any one of Boz's numerous memorable grooves.
Judging by his responses to my interview questions, award-winning singer/songwriter Boz Scaggs may be a man of many infectious grooves but he's also a man of relatively few words. When it comes to his wines, however, little embellishment is needed for those who have had the opportunity to taste them. Boz might "Speak Low," but his wines carry a pretty loud bang (for the buck).
A quick interview with Boz (who took some time out of a busy and active touring schedule to answer my questions) is below, along with some further thoughts on two recent Scaggs Vineyard releases (tasted as samples). I suggest listening to the live version of Lowdown while reading it (if that song doesn't get your booty moving at least a little bit, then you might not have a pulse…). I'm not sure Boz "gets" my sense of humor (actually, I'm pretty sure he doesn't get my sense of humor), but I sure "get" his wines – of all of the rock-star-turned-wine-producers that I'veinterviewed, Boz's releases are certainly among the best (if not the best).
Enjoy!…
1WineDude: Let's just get this out of the way right off the bat – you're not in the Rock & Roll Hal of Fame? What kind of bullsh*t is that?!??
Boz Scaggs: I won a Grammy a while back and I have no idea where it is. Somebody stole it, I think. Maybe I wasn't meant to have awards. [ Editor's note: that Grammy was for Best R&B Song, awarded to Bozz for the way-groovy tune Lowdown. ]
1WD: You have an active music career, how do you balance that with owning a wine brand? And which one do you consider as your "day job?"
Boz: I suppose if I were very actively out there selling the wine, stirring the barrels of biodynamicpotions or pulling weeds it could run into some compromising hours, but the fact is that 2 acres of vines doesn't require or yield that much juice…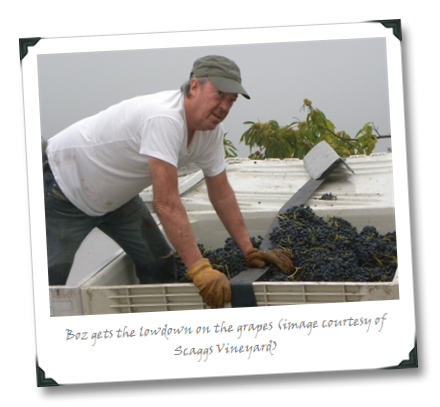 1WD: You're making wine from Rhône varieties out in (mostly) Cabernet country. I understand that came about as a bit of an accident? And did anyone in the wine biz tell you that you were nuts for doing that?
Boz: We were not in business when we started. Yes, the first thing in the ground was Syrah, but we were – and are – Rhône wine consumers and therefore planted what we enjoyed. We were particularly interested in the program atTablas Creek and acquired our material from their Beaucastel cuttings.
1WD: How often did your wine get popped open backstage during the last The Dukes of September Rhythm Revue tour? Does having fine wine available factor into your touring regimen at all? You know, like Van Halen had to have the brown M&Ms removed, is there a "no Bretty wines" clause in your tour rider? Please feel free to use embarrassing backstage stories of Michael McDonald liberally when answering this question…
Boz: I receive a variety of wines while on tour and will stop into a local shop from time to time. Frankly, there's not much wining and dining in the course of a concert tour…
1WD: You've mentioned Chateauneuf-du-Pape and in particular Beaucastel as influences for Scaggs Vineyard, are there any California wines that have influenced the direction at Scaggs Vineyards?
Boz: Influenced, yes, by way of telling me that it was possible to produce a wine of the character we like in CA. I would refer to John Olney, Steve Edmunds, Sean Thackery, Joseph Swan and Paul Draper.
1WD: You're certified organic by the CCOF at Scaggs Vineyards. How important was it you to get an organic certification?
Boz: The rigorous standards required by CCOF reflect our personal values in farming, and the certification seal lets people know what they're getting.
1WD: What's the worst wine-related pun put to one of your songs that you've ever heard? I was thinking something like "Vino! Whoa-oohhhh-ohh-ohhhhh" sung to the chorus of Lido Shuffle (I'll freely admit that pun is terribly, horrifically, epically bad).
Boz: [ No response ].
1WD: What's next for Scaggs Vineyard?
Boz: Bottling the 2011 Montage. Cheers!

2008 Scaggs Vineyard Mt. Veeder Montage (Napa Valley)
Price: $45
Rating: A-