Grammy winner Boz Scaggs gives the lowdown on his career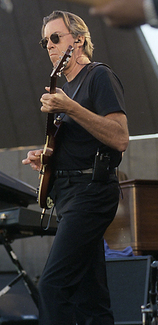 Modesto Bee - By MARIJKE ROWLAND - August 01, 2008
Boz Scaggs is a tough man to pin down.
The Grammy-winning singer/songwriter made a name for himself in the late '60s playing a soulful mix of pop rock. For 40 years, his music has defied definition as the Texas native has blended American roots, rock, jazz, R&B, blues and soul to create a sound all his own.
Like the rest of us, Scaggs struggles to define his music.
"Oh, gosh, I don't know. That's hard to say," he said from his home in Napa. "I come from a background of blues and rhythm and rock 'n' roll. I grew up with a lot of that music around. Where I lived, I got a lot of rhythm and blues and that kind of music on the radio. I learned everything from the radio. I just grew up trying to learn different styles on guitar. Just living in America, you catch all styles."
From the '70s to the '80s, Scaggs had a string of radio-friendly hits, including "Lido Shuffle," "Look What You've Done to Me," "Miss Sun," "Jo Jo," "Heart of Mine," "Lowdown," "Harbor Lights," "We're All Alone" and more.
He then spent much of the '80s in self-imposed retirement. It was around that time he became a partner in the San Francisco music club Slim's. He also is a partner in the Great American Music Hall. Then in 1988, he came back with his album "Other Roads."
His latest studio album, 2003's jazz-infused "But Beautiful," has opened Scaggs up to another audience as he has played more jazz festivals.
Scaggs joins Stockton native Chris Isaak on Saturday at Ironstone in Murphys.
Q: How do you like to describe the kind of music you play?
Boz: I am primarily a vocalist, I guess. (I listened to) a lot of different kinds of music and vocalists when I grew up. That's what my influences are. I am just one of those guys who grew up and had my ear on the radio for a long time.
Q: What inspired you to explore jazz in "But Beautiful?"
Boz: I've been listening to jazz since I was in the eighth grade. As far as doing it myself, it was a bit of happenstance. I have a small private studio in San Francisco. From time to time, I let other musicians use the studio to make demos or albums. I invited a jazz quartet to make a record.
In the course of recording, I got to know them. The piano player in particular encouraged me to try singing with them. At the same time, I was asked to do an acoustic benefit in San Francisco and I ended up singing "My Funny Valentine." I started exploring it and gained more confidence. So I decided to make the record.
Q: You've been touring pretty steadily since then, but with a 40-year-career like yours, how do you pick which repertoire to bring out on stage each night?
Boz: It depends. This particular tour, I'm doing a lot of things people are used to hearing — stuff off the radio that were hit songs. When I'm in California, I like to go into the blues style more. I like to show off my band. We just mix it up.
Q: In the '80s, you took time off from the road and the business. Why, and what brought you back?
Boz: I had two young sons at the time and I had been traveling a lot. In the '80s, I had a world tour and released two albums. I was tired and wanted to take six months off, and six months turned into a longer period of time. I felt guilty for a while that I wasn't writing. But I just didn't have any music in me. Next thing I knew, the years were passing by. Eventually, I felt I had covered those other bases and the other world I lived in and felt the urge to get back in the music.
Q: Besides music, I understand you're also a vintner, which seems appropriate because you're playing at a vineyard amphitheater. How did your interest in that start?
Boz: I have a vineyard and we producer wines. My wife and I do that. We just released our first wine last fall — a rosé under Scaggs Vineyards. We will release a red wine in the fall. Like a lot of people in Napa, it starts as a small hobby with a little patch of grapes. It has a way of becoming seductive. It goes from a hobby to more wine than you know what to do with, and next thing you know, it's a business.