I met Boz Scaggs on the first day of 1975, at a New Year's party at Bread & Roses founder Mimi Farina's home in Mill Valley. He was a handsome young rock star then, but he seemed uncomfortable in that role, shying away from the adults vying for his attention.
I remember that he was more interested in hanging out with the kids at the party. I took some snapshots of him laughing and playing with a gaggle of them on Mimi's lawn.
"I feel like I have an affinity with kids," he told me the afternoon before a concert last week at the MGM Grand in Mashantucket, Conn., a stop on his tour with Michael McDonald. "I don't know why that is. My sons are the same way. I took a break in my career when they were young, and I was fortunate enough to be able to spend more time than most fathers in their schools, on the playground and in the classrooms with them. I'll always look at that as a great reward in my life and career that I was able to do that."
Once again, he demonstrates his kindness and devotion to children by headlining "Rockin' 4 Richie," the third annual benefit concert for the Richard de Lone Special Housing Project on Oct. 1 and 2 at the Great American Music Hall. He's also playing Oct. 3 at the Hardly Strictly Bluegrass Festival, a free event in Golden Gate Park.
Boz, who's touring more now at age 65 than he ever has, is the latest in a trio of stars who have performed for the housing project. Elvis Costello kicked it off in 2007 and Ry Cooder played last year.
As a reminder of what this is all about, Richard de Lone is the young son of Mill Valley musician Austin ("Audie") de Lone and his wife, Lesley. Richie suffers from Prader-Willi Syndrome, a rare genetic disorder that is the most common cause of life-threatening obesity in children. Many families like the de Lones are unable to care for Prader-Willi kids in their homes, and the benefit is a fundraiser to provide supervised housing for them.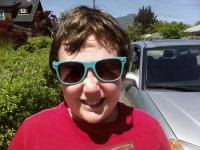 Mill Valley musician Austin de Lone's son Richard
suffers from Prader-Willi Syndrome,
a rare disease that affects muscle tone and appetite.
I was really touched meeting Richie," Boz said. "And it's wonderful being in the presence of a family that has such an extraordinary bond with each other. Seeing the depth of humanity in a family that has built their lives around this sweet little boy is charming and very touching. I have such great admiration and respect for Audie and his family, making this young boy the center of their lives."
As a father, Scaggs suffered every parent's worse fear. His son, Oscar, tragically died of a heroin overdose in 1998 when he was 21. His other boy, Austin, is doing very well for himself as a musician and music journalist best known for the Smoking Section column in Rolling Stone magazine.
"It's just a joy seeing him in his element," Boz said with obvious pride in his voice. "He's really found a place for himself. Austin never took a particular interest in writing. I think he's relating more as a fellow musician, and most of the musicians he talks to are greatly relieved when they discover that part of his personality, that he's one of them and he's not pulling any fast ones, he has no ulterior motives in mind. He's been around musicians his whole life, so he knows the difference between musicians and civilians, and he brings out an aspect in musicians that most journalists cannot."
After gaining a name for himself with the Steve Miller Blues Band, Boz gained solo stardom in the 1970s with the No. 2 album "Silk Degrees" and hits like "Lowdown," "Lido Shuffle," "JoJo" and "Breakdown Straight Ahead."
In recent years he has focused on reinterpreting jazz standards. His latest album in that style, "Speak Low," his 17th studio recording, is the dreamy follow-up to 2003's "But Beautiful."
Now, he's at an experimental point in his career, trying on some new musicians and new music for size.
Inspired by a tribute to blues immortal Jimmy Reed he saw on "Austin City Limits," he'll be shooting for, in his words, "a more rootsy, bluesy, more rockin' R&B sound" at the de Lone benefit shows and at Hardly Strictly Bluegrass.
"The 'Austin City Limits' show really touched me, being from that part of the country and growing up with that music," he said. "But I never took my place in that music very much. This might be a time to do that."
He's certainly assembled what he calls "a dream aggregation" to pull it off. Calling themselves the Blue Velvet Band, the group includes Fabulous Thunderbirds guitarist Jimmy Vaughan, Nick Lowe, Buddy Miller, James Cotton, Derek O'Brien, Applejack Walroth, Wes Starr and Austin de Lone.
"I've been thinking for some time about the musicians I'd like to pull together for this," Boz explained. "To me, it's an opportunity to work in genres I don't normally work in. After the Hardly Strictly Bluegrass Festival, I'm not doing any more touring for a while. I'll be using that time writing the next record. I've got vague ideas of what I want to do. This is definitely an experiment. But if the elements fit together like I think they might, it could be a start."