Blues take the stage with opening act David Jacobs-Strain.
The Express Times - Friday, September 05, 2008
By Melinda Rizzo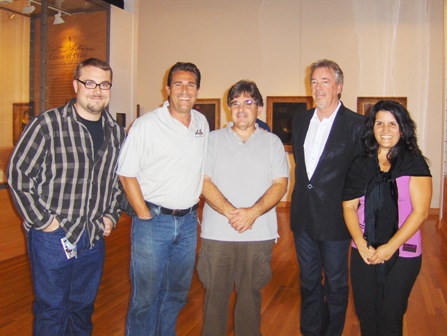 Grammy Award-winning artist Boz Scaggs opens the 12th season of the Zoellner Arts Center on Saturday with his eight-piece band and a passion for his roots.
From rock to pop, jazz and blues, Scaggs' career is heading toward the 40-year benchmark in 2009. He says he is mindful of the past as he looks to reinvent his future musical trajectory.
"Lately, I've been exploring jazz and standards but my next creative project will be a blues and R& B recording -- which is where it all began for me," Scaggs says.
At Zoellner, the Texas native says he'll perform from his classic repertoire, including "Lido Shuffle," "Look What You've Done to Me," "Jo Jo" and "We're All Alone."
"This tour is a little different from many other shows we've done, so that becomes the challenge -- to satisfy everyone," he concedes.
Scaggs' latest recording, "Fade Into Light," is a combination of classics and new material.
He first gained fame in the 1970s with his album "Silk Degrees" (1976). Prior to breakout recordings, he sang with Steve Miller and later performed with The Steve Miller Band and recorded on his first two albums. After solo success through the 1980s, Scaggs took a 10-year hiatus.
"I was touring, writing and recording all at the same time, and that pace took a toll," Scaggs reflects.
"This time, while I keep busy, I'm enjoying the schedule more. I feel like I'm doing a variety of things - jazz, the standards some ballads - and it's all good," he says.
Scaggs says he'd love to perform live with a symphony orchestra.
"A lot of my pop music was written as heavily orchestrated. It's a style of music that works that way. It would be great to hear those songs fully fleshed out on the stage," he says.
While his current tour books five cities a week, he explains that the music and audiences are what's keeping the shows fresh
"We have a lot of freedom. The tour allows us to be musicians full time," Scaggs says.
David Jacobs-Strain opens for Scaggs at Zoellner. Jacobs-Strain is a finger-and-slide blues guitarist whose style evolved from the blues tradition and includes other musical influences. He has opened for Los Lobos, Lucinda Williams, Taj Mahal, Etta James and the Blind Boys of Alabama.