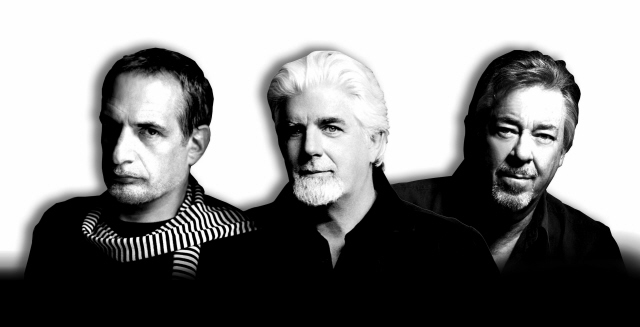 Donald Fagen, Michael McDonald and Boz Scaggs want you to know this from the get-go: This is not a greatest-hits tour. You're not going to hear Steely Dan numbers (well, maybe just one -- setlist spoiler here). They've dubbed themselves The Dukes of September to further reinforce that this is them going out, having fun, and playing songs you've likely not heard before – not by them, anyway.
The trio recently got on the phone with music journalists to talk about the tour. Below is the gist of what was said, edited, mangled and shortened by yours truly. Click "read more" for Part I.
Can you talk a little about the repertoire and what you'll be playing? And if there has been anything that is a surprise that has come up?
Donald Fagen: "Well, this is similar to a show we did back in the 90s, it was called 'The New York Rock & Soul Revue.' We toured together one summer. And basically, it's an opportunity for us to do some of the material from our own personal repertoires. And also do some cover material, just basically tunes that each of us chooses among tunes that were popular when we were growing up, when we decided to become musicians. … And ranging from R&B from the late 50s through folk material, Motown material, and we may be doing some material by the band that's come up. And also going right into things like the Beach Boys… things like that…. it gives us a break from our usual material that we do every summer. And that gives it the kind of spontaneity that should make it a lot of fun."
Boz Scaggs: "We've been talking for a few weeks and each of us submitted lists of materials that we thought might apply to this band, and working among the three of us. And you know it's really exciting. It's really fun to see the list come in from each of the partners. And we've kicked around some various formats and various types of songs, and the list has grown from a rather long one to a shorter one."
In '92 Walter (Becker of Steely Dan) was a very last minute addition to the traveling 'New York Rock & Soul Revue.' Any word coming from Hawaii?
Fagen: "So far nothing related to this tour. I know Walter's busy with his own project, a solo project right now. So that, you never know, he might sit in on some shows. You can never be too sure."
This is a question for Michael and for Donald. The two of you have a long collaborative history. What do you think is the key to how well the two of you in particular have worked together over the years, and continue to work well together still?
Fagen: "I don't know. We just get along real well. I think I've known Mike since, golly, from '73 or '74, and Boz as I said, since '93. And I think it's basically that we see things musically the same way. Although I think you're always competing with yourself. … we like to play with other musicians. We like to make each other look good, I think, and so it's more about collaboration really. And it's very, very comfortable thing really."
McDonald; Well, I would echo that; I mean Donald and I, and Boz for that matter, we all came up during the 70s and the record business in L.A. … we're all still kind of working together, and taking the stage together after all these years, is in itself a lot of fun. I mean, last time I toured with Steely Dan I thought to myself, 'Did I think I'd be on stage with these guys again in this lifetime?' And still I look forward to it. … to get on stage and play -- not just our own songs, but the songs that we grew up listening to -- really kind of got us all into this, with the band of this caliber that we're in put together. You know, it's like a dream come true. It's almost self-indulgent for us. And doing the old stuff is really the more self-indulgent part for us, because we probably enjoy that even more than playing our own stuff. And we have to be careful that we don't get too obscure…we want to pick the songs that not only we enjoy, but that the audience will enjoy. It's kind of like sex. You have music and sex, you have to be careful you're not the only one enjoying it, you know."
Will the three of you be stronger draw than the three of you individually? Any thought on that line going through your head?
Scaggs: "Mike and I have been doing some touring together as a package for the last year or so. And between those shows, and Mike's been out on his own, Steely Dan's been out. I've been doing my own concerts. And you know, we've been doing quite a number of shows; as a matter of fact, I'm working more than I've ever worked individually. And then when Mike and I got together for a number of shows, it just turned out to be a great combination. … And so you know there's that – here's the synergy word, but it's really true. And so it's good for our music and it's good for business, which is what we do also. But it's a real thrill to be able to work with a couple of artists who have mutual respect for each other, and come out of the same musical place."
Fagen: "I've been doing revue type things on and off since the early 90s, and it's in a way the most fun kind of show to do, because it gives the audience a lot of variety, so it never gets boring. It's fun for the other musicians to do something they don't usually do. And I think there's a great tradition in it. Like I know in New York here, everyone always talks about these great shows at the Paramount where they used to you know like the Motown reviews and soul reviews. That you'd get to see Otis Redding and Sam Cooke and all these great acts, all on one stage with one band. I think that's sort of where these kind of things derived. I don't think --you know, we say well how can we drum up some business--that wasn't the main thread here."
McDonald: "I think all of these tours like Lollapalooza and all the different genres--what really appeals to people is they get to see so many different acts on one stage. And then in this case, there'll be the three artists with one band. And we'll be doing other artists' material that I think that the audience will like."
Could each maybe talk about a song, a classic song that you maybe want to perform, and one that was significant to you, that really influenced you or an artist that influenced you?
Fagen: "Well, we're still narrowing down the material. Actually, what I've been doing with Levon (Helms')'s band that I'm thinking of doing in the show is a Grateful Dead tune that's kind of a couple decades later than most of the material we're doing. It's called 'Shakedown Street.'" And it wasn't the typical Grateful Dead song because it had a kind of dance beat to it. I think they were kind of cashing in on the disco craze or something like that. But it's a fantastic song with a beautiful lyric and it gets a great response every time that we do it. And so I think I'm going to try to put that in the show. Anyone else?
McDonald: "One song I rarely get a chance to do that we might do in the show, last time we talked about it, was a Ray Charles song called 'I Got News,' which was from one of his big-band blues albums. So it's going to be a real diverse show. But for me, that's a song that I always loved playing, back even when I was a kid. It's one of those mainstays that I'm kind of thrilled to get a chance to sing again."
Scaggs: "One of the real good ideas that's come out of choosing the repertoire here is we're looking at material from The Band. And each of us is going pick a song, so we've been sort of going through a lot of The Band's material. And of course, there's just a wealth of stuff. And each of us has sort of listened and dug them a lot over the years. And I know Donald's been working with Levon, and it's just sort of in the air. So that's a particularly exciting little bit of real estate that we're looking at for the show. It's just great going through all that material. And this band will really nail this kind of feel."
Fagen: "That's the current thinking. A Band tribute where each of us will do one of these Levon/ Robbie Robertson tunes. And also there's a certain challenge to it, because especially since The Band – it's a one of a kind quality to them, where the performance is really part of the record in a way, that it was really part of their lives really. So we have to work with the band and make sure that our version brings something different to it. And that'll be interesting."
The band name, is that a play on "Boys of Summer," or where did that come from and what does it mean?
Fagen: "Well, we had a little trouble finding a name actually. We went through a few names. I think we started out with the theme from Sea Hunt Rhythm Review but that didn't get universal acclaim. So I think the 'Dukes of September,' I mean we're going out in September. I think the 'Dukes' is a sort of name that a lot of 50s doo-wop bands … you have to choose names for royalty, the earls, the dukes. And then September, aside from the fact that we'll be touring in September, I think this kind of allusion to our collective ages in that – in the sense that, say the Kurt Weill song, 'September Song,' would also use September as a metaphor in that sense. But that's basically the way it worked out."
What solo projects are you working on these days?
McDonald: "Donald, you're doing a solo album right?"
Fagen: "Yes, I started working on a solo project. I did a couple sessions and they should be out sometime next year."
McDonald: "I'm doing a couple things. One – probably the first thing that I hope to get done is a duo record with Robben Ford's guitar player. And we're working on a project together and hopefully will get it out next year sometime."
Scaggs: "A couple of things. One, I'm sort of combing back through some material that I've been collecting over quite a long period of time, just going through tapes. And I found some stuff that looks like the beginnings of a collection of original things. And then I'm continuing a series that I started about 10 years ago of standards in a sort of a jazzy vein. Basic quartet, and I'm sort of combing through the standards again, and we'll probably release another one of those within the next 6 months."
When you're looking at your solo material, does that make you feel obligated to perform some of the bigger hits, like Michael had alluded to, for keeping everyone happy? Or does it give you more impetus to pull out some rarities of your own?
Fagen: "Well, I know for myself, that I think it's an opportunity for me. Instead of playing a lot of Steely Dan material, as far as personal repertoire goes, I think that it gives me a chance to do some of the stuff from my own solo albums. So I wouldn't be surprised if I stick with some of the stuff I have in my list like 'IGY' and things like that."
McDonald: "Yes, and even though for myself, some of the things that we'll do--I'm not even really sure what we've decided on – as far as those songs go. But I think it'll be a combination of things that people certainly would want to hear, and might feel like we've passed by something that they might want to hear. So it's kind of a tricky thing, you want to do something that they don't always hear ,like maybe – in my case, maybe like 'Yamo' or something. But you feel a little sheepish if you don't do 'What a Fool Believes,' because first of all, this band would play it well and play it great. But also you're afraid people might feel like they got shortchanged or something if you don't do some of the big hits."
Fagen: "Yes, I think it's always nice to send people home with hearing some stuff that they're used to hearing you play. It's kind of a trade-off, you want to play some material they're not used to hearing, and there's obviously some part of the audience that's going to feel cheated if somehow they don't hear something that they've come to hear."
What would you consider the pluses and minuses of performing live as opposed to in the studio?
Scaggs: "Well, one is performing and one is sort of more exploratory. Speaking for myself…the studio is just for me a chance to try things out and explore things with a certain lineup of players and just work out some ideas. Whereas performance is something that you can then refine, it's all there, the picture's already painted. Then you go out and explore various ways of performing. And that's just a different kind of release. I remember when I was recording more frequently and touring more frequently, when I was on the road I was sort of at a point to be eager to get back to the studio, and the same with when I was in the studio, I wanted to go out and play. So they're really just two different elements to me.
Fagen: "Yes, I agree. There's always that point if you've been on the road for a few months, the thing you somehow want to do the most is sort of gather your thoughts and get some sleep for a month. You want to see where you are, and then start developing ideas that you've been having. And then the other thing, if you're a couple months into making a record, it's like I'm tired of this nail-biting routine, and trying to figure out this puzzle of how to make a record, and I'd rather just be out on stage. It's really like two pulls of the same thing, but it's very different, very different."
McDonald: "I would agree with that. I think sometimes for me, I feel like it's easier to be on the road. I enjoy singing live more than I do in the studio for one thing. In the studio, I always feel like I have to kind of get a run up to it when I'm singing…"
Fagen: "The other thing, when you're right on the road, your people take care of you."
McDonald: "Yes."
Fagen: "And then when you come home, aside from doing whatever you're doing work-wise, you also have to take out the garbage and stuff. It's like going out – it's like an endless poker game with the boys or something."
Scaggs: "No mailbox on the bus, you know."
Obviously you all are big fans of each other, is there one song that you feel like, "I'm not letting this guy get off stage because I want to hear it."?
McDonald: "Well, I'll jump in there, I'm glad that Donald's doing 'IGY,' that's one of my favorite records of all time. So I really hope we do that one."
Scaggs: "Yes."
Fagen: "Well actually, the song that I talked to Boz about a while ago-- and I won't mention the song because I don't want to raise any expectations-- I think he does it great. But he had some reservations about it. But I'm going to work on him for a while, it's a cover song, I think it's from the 70s, late 70s or so. But I'm not through talking to him about though."
Scaggs: "OK, note taken. … the three of us have a mutual, extremely high respect for Ray Charles. And there have been any number of songs kicked around that we suggested as songs we might do personally. But Donald or Michael are both going to have to do something from the Ray Charles repertoire I think, to really make this a show for me. I love Ray Charles and two of my favorite performers with that material."
Which song or songs by the other two guys would you each consider a must to include in the show, maybe each of you can answer that?
McDonald: "Well, I would say I love 'Loan Me A Dime' with Boz, but 'Silk Degrees' from that record, there's so many of those songs that would be a must. 'Lowdown' for sure with Boz. And with Donald, like I said earlier, I would love to hear him do 'IGY' live, and I'd love to be a part of the band that plays on that."
Fagen: Yes, I love 'Lowdown,' it's a fantastic song that, when it came out, it was a huge hit and pretty influential. And he does it really beautifully. And also I love the way Boz sings blues, I think it's just so natural, and so any kind of medium blues would be great. And Mike, he's written so many great songs, 'You Keep Me Running' is certainly one, 'You Belong to Me,' there's any number of songs that I hope Mike decides to do."
Scaggs: "For my part, I'm glad we're looking at Donald's solo stuff, the 'Nightfly' material, real special to me. And we're looking at several of those songs, and can't wait to see how those play out with these bands. And of course Mike, I've heard quite a lot of Mike's material live in the last year. And there's so much good stuff, the problem is going to be finding those one or two that, well it's no problem at all really. I'm just in very good company here."
I was just wondering if you guys think that your original material is seeing a resurgence in the past like 5 years, so especially with Mike's music.
McDonald: "I don't really know, to be honest with you. I've had some pretty good fortune in the last couple years. One of the things that I've had the most fun doing, and it had turned out to have been kind of resurgence as an artist for me, was the Motown records, which I have to give all credit to those songs. And the fact that it was so much fun to do, it was hardly like work. I think going back and doing a solo record of original material for me would be, in some degrees, like going back to work. But I'm almost amazed, I think and the other guys would probably agree with me, that after all these years, I don't know that any of us really expected to be still out touring in these venues and playing for audiences like this. And it's something we're all pretty grateful for the opportunity to do."
All three of you all have been known throughout your careers for just your impeccable taste with backing musicians. I don't know if you all can tell me a little bit about who you got backing you up this time, and how you all settled on them.
Fagen: "Well, there's a little crosstalk with the Steely Dan band. We've got Freddie Washington playing; he has been playing with Steely Dan for a few years. And let's see, on drums we have a guy named Michael White who I've played with in the studio before. Let's see, we've got a great horn section, Jay Collins, Walt Weiskopf and Michael Leonhart on trumpet. Catherine Russell and (Carolyn Leonhart) as backup vocalists, who are both great jazz singers in their own right. And who else is playing, Jim Beard is going to be playing the organ, Mike McDonald, a guy I know is going to be playing the Rhodes Piano I think, something like that. And then Boz Scaggs, we've contracted with him to play the electric guitar and Jon Herington will also be playing the electric guitar and things like that."
I was wondering if you could each individually flash back to the past for me and talk about your favorite tour ever and what was so special about it.
Fagen: "I don't know if we can actually do that in public actually."
McDonald: "Gosh, it's a hard thing to do. I think one of my favorite tours for sure was with Steely Dan when we toured Europe the first time. That was the first time I ever went to Europe and so it was kind of a big adventure you know for me. And we played the U.K. and some countries in Scandinavia and stuff."
Scaggs: "When was that, Mike?"
McDonald: "Was it---Donald, 1972 or something?"
Scaggs: "Wow."
Fagen: "That's got to be, yes, '73 maybe."
McDonald: "Seventy-two, yes I remember Joni Mitchell's "Court and Spark" album had just come over there."
Fagen: "Yes, right, right. One of those years. Yes, that was great."
Scaggs: "One of the most memorable is when after the 'Silk Degrees' album was made, the guys who I made it with were young, sort of unknown rhythm section that are well known to Donald and Michael, featuring Jeff Porcaro on drums, David Paich on keyboards, David Hungate on bass. And although they'd been playing live since they were 16, 17-years-old, and had actually been on some big tours, this was the first time really touring extensively. And the album really had not become a big hit, so we just went out and started working the record. And as the record sort of gained an audience and grew, and it started moving up the charts, we were sort of growing with it. And it was just a hell of a rhythm section and fun to watch our creative work grow and the audiences expand, and it's just pretty exciting."
Fagen: "I think for me, the last Steely Dan tour was a lot of fun. We were doing full albums, alternating three different albums. It may be though that that's the only tour I can really remember, was the last one.:
Did you three ever feel competitive?
Fagen: "I have a feeling, correct me if I'm wrong, but each of us probably enjoys being a sideman as much as being a front man."
McDonald: "Yes."
Fagen: "And maybe even more so, certainly for my part."
McDonald: "Yes."
Scaggs: "Yes, we're working with material that is challenging, and it's going to be really fun to perform background vocals or to take a guitar part of it, take a synth part. And I'm talking about the material of the other two guys as well as the cover material we're going to do. This is fun, challenging, and the stuff the music's all about."
How do you guys go about learning a new song?
Scaggs: "We have charts."
Fagen: "Yes, we're going to have charts made up. I'm doing some, and then there's a couple of other guys working on them. And we'll have stuff prepared and all of us are pretty competent as far as that goes. And I think we're all pretty much quick studies as far as, we're finding it as something else again, that we'll do the best we can in the rehearsal time we've got. And then as the tour goes on, I'm sure it'll get tighter as it goes."
Scaggs: "Yes, like taking The Band material in particular, as Donald was talking earlier about, stylistically we're going to have to just own that song. We're going to have to find our own way to possess that song. And it's really driven by trying to find the spirit of that song. And adapt our instruments and our voices to make it work. And that's going to be a challenge, charts can be read and sounds can be imitated from recordings or whatever, but it's going in and finding our own voice among these other songs, that's challenging."
Fagen: "Especially with the cover tunes, we're not looking to even play them note-for-note, or imitate the original singers, I think that would be impossible for one thing. But it's to respect the material, but at the same time reinterpret it according to our subjective esthetic, really."
I'd love to hear whether or not you've considered giving each of you a spot where you're singly alone on stage doing a song, or if the three of you would consider doing a song or two together, just the three of you without any backing musicians?
Fagen: "That's kind of scary for me, I don't know. But you know I have an open mind."
McDonald: "Yes, sure, sure. That might not be a bad idea."
Fagen: "Yes, that's something that's the kind of thing that happens in rehearsal, where you come in and there'll be three guys just messing around with something, and say 'Hey let's do that.'"
What's on your iPod?
McDonald: "Lately I've been listening to--I say lately, that's probably all I listen to-- is some older female artist songs. One song I've been kind of caught on recently, and I just kind of did a little recording of it for fun on ukulele and piano, was Ketty Lester's song called 'Love Letters.' And it's a record that Lincoln Majorca played the piano, that kind of famous piano part on – but it's just a great, great all time record, as far as records you can hear it 100 times. You hear something …"
Scaggs: "Somebody just sent me a CD with about 12 versions of "Love Letters" on it."
McDonald: "You're kidding, really?"
Scaggs: "No, I'll pass it on to you as soon as I …"
McDonald: "I'd love to hear it. I think Patti Austin did a great version of it, I know."
Scaggs: "I'm listening to Ry Cooder. There's an album called 'I Flathead' that I've been listening to. And then he made one with, I think it's one of the Cuban guitar players, it's called (Los Quaneros) they call themselves. A couple of Ry Cooder CD's for me.